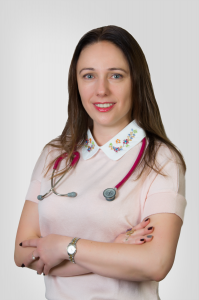 My name is Małgorzata Żak, I am a medical doctor, practitioner, consultant pediatrician and the author of this page.
I graduated from the Medical University in Gdańsk, Poland. I've defended my doctoral thesis before the Medical Faculty Board of the Medical University in Gdańsk and earned my Doctor of Medicine degree with a specialty in pediatrics.
I completed postgraduate studies "Herbs in Prophylaxis and Therapy" at the Medical University of Karol Marcinkowski in Poznań.
I've gained my professional experience working in clinics, hospitals, as well as public and private healthcare facilities, alongside the best professionals in the field of widely defined medicine, with a particular emphasis on pediatrics. However, "the biggest" practical experience for me was taking care of my own child. I've worked at a hospital, as a Deputy Chief of the Children's Ward. Currently, I work "in the front line" at a Private Healthcare Facility.
I treat various pediatric diseases, but I am particularly interested in issues related to Lyme disease (borreliosis) and other tick-borne conditions and their treatment. I also specialize in treating and diagnosing of the hormonal and metabolic disorders caused by Lyme disease. In my practice, I successfully use herbal medicine.
Privately, I am an undaunted optimist, I love reading books and being physically active. The sphere of my interests is mainly focused on pediatrics, but, in addition to that, I'm also an art lover.
Why pediatrics?
 I am happy and feel that every day while doing the work I love. There are several things that make me happy about my profession. Firstly, I have the opportunity to watch children develop, from birth — when the most important things in their lives include food, sleep and making their diapers dirty, up until they reach adulthood, when they start pursuing their dreams, making the world a better place.  On top of that, I work with amazing people. I noticed that usually people who love working with children have a unique perspective on life and great approach — precisely because they see the importance of working with children. Secondly – I sometimes feel as if I was a member of my patient's family, because of the help that I offer, and also thanks to the trust that children and their parents put in me. In addition to that, I always get to meet wonderful people and particularly appreciate every opportunity to meet those who've chosen a path in life that is completely different from my own. Each time, such encounters make me realize how unique and special every person is.
Another important thing is that I can influence lives of so many people and I try to raise awareness of healthy lifestyle and the importance of developing the right daily habits among my patients. Reshaping a person's mindset can be hard in the case of someone who is my age, while with a 10-year-old I still have great chances of success in making a positive difference. In addition to that, I am happy to help parents by teaching them how to properly interpret their children's behavior, prevent diseases or take care of their children when they are already sick; I also appreciate every opportunity to teach my less experienced colleagues how to properly treat and diagnose pediatric diseases and how to provide children with the best care. And finally, the last thing that comes to my mind is that my own family needs me. This may sound a little exaggerated, but I feel that, up until the point when my child starts his own family, my care will remain very important to him. I am almost positive that I'll still feel this way even after he has his own children, even though he may think otherwise now.